Our website shows a selection of the products available in our stores. Visit our Town & Country Stores in Axminster, Crediton and Okehampton for the full range.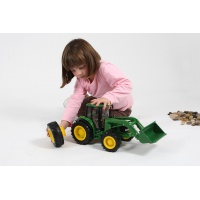 Britains Big Farm John Deere with Front Loader
With all the features of the standard tractors the Britains Big Farm John Deere 6830S tractor also has detachable dual rear wheels and a fully functional front loader that raises and lowers, pivots and that can also be detached. Compatible with Britains Big Farm implements and most other alternative 1:16 scale authentic replica plastic farm play items.