Champion
All top riders know the importance of safety and with many of the best riders in the world putting their trust in Champion, you know you can too.

Champion has a tremendous safety heritage and the brand has been a driving force in the design and development of protective riding hats for over three decades. Over this time, design and production technology has been refined, enhanced and perfected to ensure Champion products are based upon the most up-to-date, scientific safety research.
Champion Categories
Champion Products
Champion Titanium Ti22 Body Protector
Unisex flexible segmented style body protector Heavy duty YKK zips, military grade outer mesh, ultra lightweight foam and cool feel titanium coloured inner lining Cutting edge comfort & flexibility achieved through revolutionary SegTek construction Channeled airflow hole heat release system Slip it on, zip it up and fit for ease of use Colours: Black with titanium lining Adult Sizes –...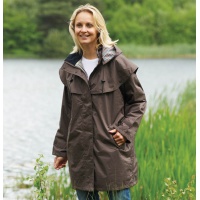 Champion Windsor Waterproof Coat
Features: - 100% waterproofed polyester shell with taped seams. - Polyester cotton yarn dyed lining. - Studded placket with two-way zip. - Adjustable back vent. - Fully lined detachable hood.