Our website shows a selection of the products available in our stores. Visit our Country Stores in Axminster, Crediton and Okehampton for the full range.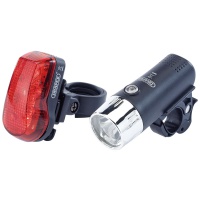 Draper Front and Rear LED Bicycle Light Set
Super bright 75 lumens LED front bicycle light and 1.5 lumen LED rear light with various lighting modes. Fitted with quick release mounting clamp and frame protection strips. Front light uses 3 x AAA batteries and rear light uses 2 x AAA batteries each (sold separately). Display packed.