Our website shows a selection of the products available in our stores. Visit our Country Stores in Axminster, Crediton and Okehampton for the full range.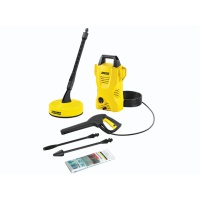 Karcher K2 Compact Home Pressure Washer
A small, lightweight unit, suitable for occasional usage for light tasks. Complete with a patio cleaner and detergent package, it's ideal for cleaning small patios and decking as well as garden furniture, bicycles, cars and motorbikes.
Karcher Universal Cleaner 500ml
The Karcher Universal Cleaner is ideal for thorough cleaning of soiling outside the house and in the garden and suitable for use on wood, stone, plastic and paintwork.
Karcher Wash & Wax Pouch
The Karcher Wash and Wax is ideal for long-lasting cleaning of all types of vehicles. It cuts through road grime, and the care elements protect the paintwork, accelerate the drying process and provide a gleaming finish.