Shires
With over 40 years experience, Shires Equestrian is one of the leading names in equestrian equipment for horse and rider.
Starting life in 1968 designing and manufacturing horse clothing, they have broadened their knowledge and now have one of the most comprehensive ranges, becoming one of the most popular brands in the equestrian world.
Shires Categories
Shires Products
Shires Elastic Training Reins
Elastic training aid that gently encourages correct head carriage by applying light pressure at the poll. Easy to fit, the elastic passes through the bit and clips on to either the saddle D-rings or girth. Made from 6mm tubular elastic with adjustment on the poll.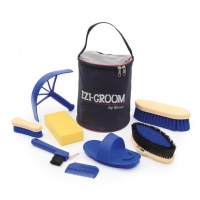 Shires Flexi-ReinŽ
This simple patented rein attachment has been developed to provide the correct starting point for a relaxed, balanced and obedient horse. The Flexi-Rein® design allows your horse to naturally flex at the poll and neck, encouraging him to relax as the uptake of elastic relieves any extra tension and pressure on the sensitive mouth area. Ensures improved results every time you ride, whether out...