Ariel
Ariel transformed the detergent world with material and packaging innovations that made the laundry process less harmful to the environment. Today, you yourself can appreciate how Ariel is still transforming the washing process with convenient pre-measured liquitabs and tablets to help ensure the right dose for an impeccable wash.
With today's environmental issues, Ariel are committed, like you, to do their little bit for the planet. In the last decade, you may remember Ariel saying that you no longer needed to use a pre-wash cycle, and that you could turn the wash temperature down and still get brilliant results. With lower temperatures, you could save money and energy, and continue to get great wash performance.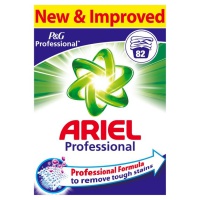 Ariel Bio 82 Wash
Specially formulated to deliver our best cleaning & stain removal in the 1st wash!
Ariel Bio Liquid 100 Wash
The new pre treat cap and improved formula helps up to 95% stain removal in the 1st wash.* The innovative pre treat cap, with its flexible fins and spreading surface, allows you to pre treat stains, scrub and remove stains, and also dose your laundry. Ariel is tough on stains yet gentle on clothes. Pour some liquid on your stain, spread and scrub with the pre treat cap, and put your clothes in your...