Bosch
For every DIY task, big or small, Bosch has the right tool for the job. Discover our range of expert DIY tools.
Bosch Categories
Bosch Products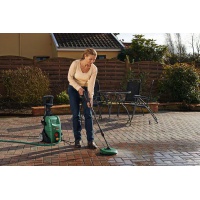 Bosch Pressure Washer AQT3400+
Quick connect SDS fittings: ready to go, no assembly required. Versatility: comes complete with several accessories - stored within the machine for convenience. Energy efficient: self-priming function can draw water from water butts and the auto-stop system delivers power only when needed. Easy-fold handle and sturdy wheel design Quick-connect SDS fittings Integrated accessory storage Suction...
Bosch 2 Slice Village Toaster in Cream
Rack for bread rolls, intregrated Large surface heating element Automatic bread centring for even toasting Electronic sensor for consistent toasting performance Manual high lift function Safety switch off if toast becomes stuck